A wine of broad appeal
A perfect balance of lush and crisp. Your go-to Chardonnay.
Sea Sun's character speaks to California's unique coastal regions
Our diverse vineyard sites span several hundred miles, and even subtle differences in temperature and the strength of the wind leave their mark on the grapes. The result is a wine that combines our favorite characteristics of this varietal, with fruit flavors, oak and acidity in harmony and balance.
Scents

Toasted wood
Brown spice
Lush dried apricot

Finish

Round with vibrant acidity
Enlivening freshness
A grippy, toasty quality
Sourced from places where sea & sun reign
Coastal regions of California provide ideal growing conditions for Chardonnay
The "sea"—the Pacific Ocean, with its cooling breezes that can turn into howling gusts of wind. The "sun"—a balancing presence, its warmth shining down day after day. These two forces lead to an extended growing season. Grapes stay on the vine longer to create wines of heightened complexity.

The regions where we source Sea Sun also feature subtle differences, with even a few degrees in temperature or the strength of the wind leaving their mark on the grapes. As a result, Sea Sun wines are layered with aromas and flavors, holding broad appeal for a wide range of palates.
SOLANO COUNTY
This lesser-known region bears the incredible influence of San Francisco Bay
Only a 30-minute drive southeast of Napa, Solano County is home to the hidden gem of Suisun Valley. With its pastoral landscape and mutli-generational family farmers, this small but exceptional wine region reminds us of Napa Valley in the 1960s. It shares a similar maritime climate with its more famous neighbor, shaped by proximity to San Francisco Bay.

Suisun Valley—within broader Solano County—is the warmest of the four regions where we source grapes for our Sea Sun Wines (and what we call wind here is just a gentle breeze in Monterey). Harvest occurs earliest in Solano, and the grapes from this region lend a special richness to both our Chardonnay and Pinot Noir.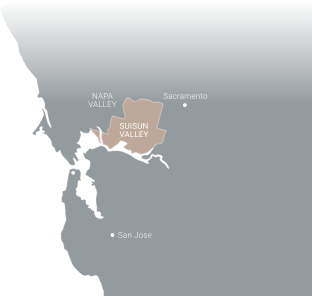 MONTEREY COUNTY
Rugged beauty and dramatic weather create ideal growing conditions
Monterey County has a singular character—one that enhances both of our Sea Sun wines. Foggy mornings give way to bright sunshine, tempered by afternoon wind blowing off of Monterey Bay. This weather pattern (with gusts that can slam a car door closed or bend the limbs of a tree) translates to vibrant natural acidity and intense layers of aromas and flavors.

We love to drive down the roads of this untamed landscape, where vineyards lie close to row crops. This county is home to one of America's true farming communities, a place that has inspired novelists and winemakers alike.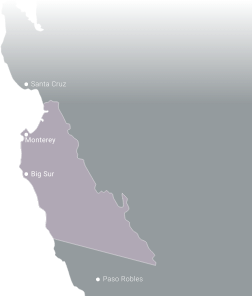 Santa Barbara County
Set apart by unusual geography and multiple micro-climates
Santa Barbara has been home to movie stars—and highly celebrated wines. The key to the region's stellar reputation is its diverse pockets of land, a visual collage created by mountain ranges that run east to west, rather than north to south. The result is a series of hills and valleys directly shaped by the Pacific Ocean, with gradations in wind and temperature that lead to nuances of aromas and flavors in the glass. Santa Barbara County helped popularize Pinot Noir as the setting for the movie "Sideways," and it remains a place where the real-life story is even better than on-screen.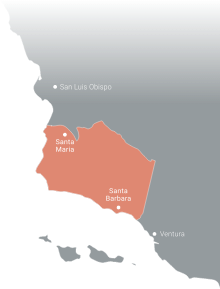 Coming from a long line of farmers and winemakers, Charlie Wagner caught the winemaking bug as a teenager. He embarked on a never-ending fascination with finding great vineyard sites throughout California. Sea Sun wines are created from this exploration.
The Wagner family has deep roots in Napa Valley dating back to the 1850s. They have never stopped pursuing new ideas and exploring California. Today they are proud to offer a diverse range of wines.